Miley, looking beautiful in white during a photocall at another press conference today (April13) in Rio de Janeiro, Brazil.


She said she was impressed with the fans here (brazilian fans). "There's a huge difference between Latino fans and Americans. I love Americans, but I never saw anyone sleeping on the door of my hotel and shout my name without stopping." She added: "I wanted to go to places where people do not judge me, not to indict the shows. Here is the music that matters, they asked me to come because they like my music," said the singer, who said she is enjoying the passage for Rio de Janeiro.

"Rio is one of my favorite places because we had a day off and we could relax. I really enjoyed the beach I was yesterday," she said. "I want to go back to meet more, but nothing of tourist places. I wanted someone to take me to places where the locals go. " Maybe to learn to samba? "I don't know nothing of samba, I only know the songs on an exercise video that my mother has. If you want to see, she can show it."

Advice for a girl who wants to be a singer?: "I have a sister who wants to be a singer, but I say wait for it to not lose part of childhood and adolescence. Study hard and do not let others pollute your head." She added later: "I only attended school until sixth grade. I suffered bullying, so I was happy just for not being there."

Do you like the most acting or singing? "I like both, but when I'm on tour I'm focused on music. I like both." And TV? "I do not know if I want to go back to doing TV. I do not like to have a schedule, but can not say I never do."

Where did the idea of ​​the gypsy theme for your tour? "My father was always on tour, so I grew up in that environment.I've never been in one place for too long, leaving family and friends behind. You carry your heart with you."

About the movies "LOL" and "So undercover": "'LOL' did for me, I enjoyed the story, but 'So Undercover' is a very funny comedy."

Idol in music: "Joan Jett. The peak was able to sing with her."(Miley has a cover of the singer on the show). "I chose some classic rock because they want to show what inspired me," she continued.

Whiskers? "I like mustaches because it is a joke of me and my brother. When I'm away I send pictures of me and him too."

Followers on Twitter: "Twitter is my way of communicating with my fans, so I know what they want to hear." "The strangest thing was a person who threatened to kill a cat because I do not twitter more. I found a little too much, I'm not a cat killer."

And after the tour? "After the tour, I should just stop for two weeks for my parents did not go mad. I wanted to record an album, but with movies spend much time doing press."

Videos & pics from the press conference below.

(untagged)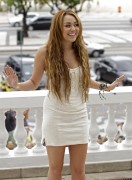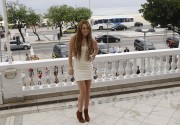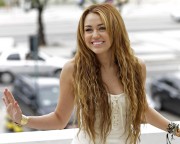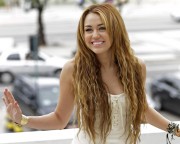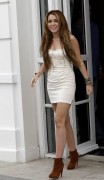 (tagged)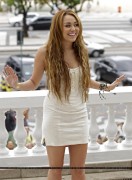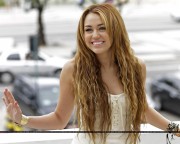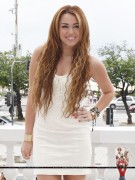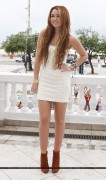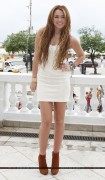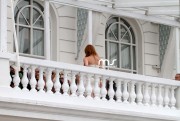 Full press conference.

Miley waves to fans during the photocall.
source
pic sources: @mileyonlinefr & @msourcenet